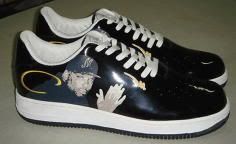 Thanks to Game Time Athletics you don't only have to support your favorite rappers by buying all of their albums and knowing all of their lyrics, you can now wear them on your shoes. Located in Memphis, TN, this leading designer and distributor of custom athletic and urban apparel has expanded into the global fashion industry with the release of the Face Off, a footwear collection that personalizes a digital image of a face on each side of the sneaker and inside its' sole.
"Now you can design your own shoe. It can look exactly how you want it to. Your own creativity is the only limitation" says Jamien Sills, Creative Director for Gametime Athletics. "It's something that's never been done before and something that other companies may not be capable of. The market is moving to (where) everybody is customizing shoes, but this is something that people aren't doing. People love it, especially record labels, entertainers and DJs."
For more info www.gametime-athletics.com
Who would you put on your shoes? Or would you even do so?