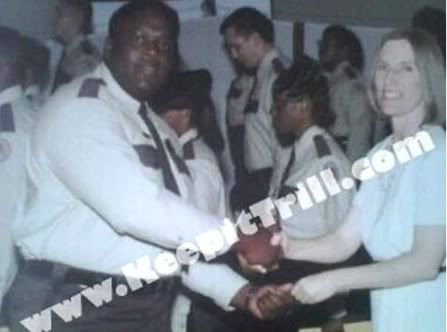 Well Well Well, ever heard the term "only time will tell" well in this case time is definitely snitching. Like I told you guys before I knew Rick Ross use to be a C.O. since last year I just didn't know it was this big secret and that most people didn't know about it or the fact that this cat has been denying it.
Ross (real name: William Leonard Roberts) was appointed a prison guard in December 1995 at a salary of $22,913.54, according to the below personnel record, which was provided to TSG by Jo Ellyn Rackleff, a DoC spokesperson. The rapper's social security number is identical to that of the jail guard. According to the official document, Ross was earning $25,794.34 when he left the department in June 1997. After graduating from the DoC training academy, Ross was assigned to the South Florida Reception Center in Dade County (the lockup is one of three statewide that serves as an intake facility for new prisoners).
I didn't care that he was a C.O., the Trilla album is still fire but once he once he denied it, it's only a matter of time before life provides to the proof about who you really are and who knows maybe he did move major weight after he left the force, maybe he made connection with inmates who had connects but you messed up by lying and now you look phony and the greatest rapper alive co-sign you.
Props: The Smoking Gun, making it hard for these rappers.