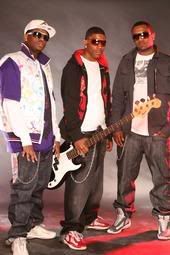 Run DMC collaberated with Aerosmith, Jay-Z linked up with Lincoln Park, and now Atlanta Georgia's own, Shop Boyz, are ready to add their own spin on the genre of mixing Rap and Rock N Roll. With their new smash hit "Party Like A Rockstar" playing on every local station, at least 20 times a day, and the two week jump of 49,000 plays on their myspace to an incredible 150,000, the Shop Boyz are well on their way to having the whole world partying like a rockstar.
Check them out at www.myspace.com/ondeckrecords
Let me know what you think!!!!