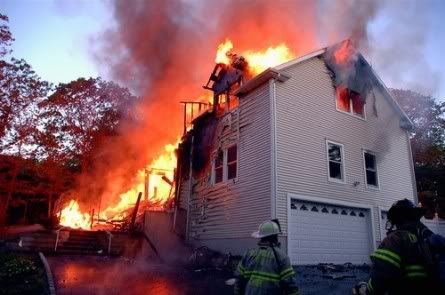 An eyewitness told Newsday that among the injured, all of whom suffered smoke inhalation according to fire officials, were 50 Cent's ex-girlfriend, Shaniqua Tompkins, and their 10-year-old son, Marquise.

"She was all right," eyewitness Frank Hoyte, a Newsday employee, said, adding: "But she was angry."

He said Tompkins was standing outside the home barefoot as it burned, wearing a bathrobe. Two young boys, one of them Marquise, two teenage girls and "an older woman" were also standing with Tompkins, Hoyte said.
Fire officials are calling the blaze "definitely suspicious." You already know how this is going to turn out there going to say 50 Cent did it or maybe his baby mama pulled a Lisa "Left Eye" Lopes.