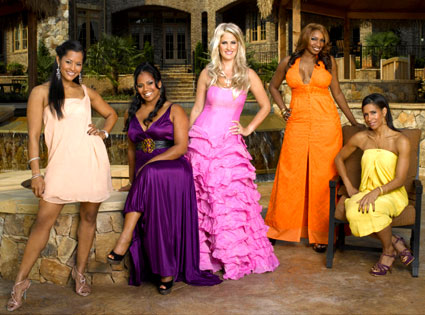 (Atlanta, GA) – As a resident of Atlanta, I am all too familiar with how 65% to 70% of the population pretends to be someone they are not. Don't get me wrong, a lot of the people in Atlanta are doing really well; you have a lot of people doing very well in their prospective careers. However, you still have a lot of people who are still faking it until they make it. This includes several members of the cast of the Real Housewives of Atlanta.
Throughout this show, viewers from all around the country have been conned into believing that these women have something serious going on. However, it has been revealed by numerous of sources that there have been many lies within this so called "reality show". We have been conned into believing that that these women have stacks on deck and are just living it up like there is no tomorrow. However, it has been revealed that my personal favorite NeNe Leakes has been evicted from her Duluth home; which is the same home that has been featured on the show. Her B.F.F. Kim Zolaic was written into the script to add adversity; there is no such man as a 'Big Poppa' (a.k.a. Lee Najir) – which means she never bought that Cadillac Escalade. (Before the show finished taping, their relationship ended). Nor does she have a singing career in the making with mega producer Dallas Austin. However, Kim does live in the very nice townhouse shown in the show. Furthermore, Sheree Whitfield's finances are not as lavish as reported either. The uptight and sadistic diva is known for bouncing checks throughout the Atlanta metropolitan area as she travels and shops with her entourage of people. Unsurprisingly, Sheree was also evicted from her home seen in the show. Lisa Wu-Hartwell recently filed for chapter 7 bankruptcy and is known for having several alias such as Sharron M. Wu and Sharon Lisa Sweat (after her previous marriage to Keith Sweat whom she has two kids).
Now, don't get me wrong; I'm all about doing well and having things to represent your success. However, prior to their show I have never heard of any of these women (aside from Sheree's check bouncing through Lenox Square Mall). It seems like the only women who have something legitimate is DeShawn Snow, who is working diligently to get the DeShawn Snow Foundation up and running. Ironically, nobody wanted to give DeShawn any play during her fundraiser at the couple's home. Perhaps these ladies were just jealous because DeShawn's money is real.
I suppose this show just goes to show you that you cannot believe half of what you see and none of what you read – even when you're living in the overcrowded city of Atlanta, GA. Everybody who is somebody is linked to somebody else and it is truly six degrees of separation amongst people.
Although all of these ladies are quick to fight the rumors, the fact of the matter is none of these women have it going on as they proclaim. If they did, NeNe wouldn't have that $30 a bag dry, bridle, and ugly quick weave in her head and Kim's clip on pieces wouldn't show every episode.
Be yourself people! Fronting and flodging will get you nowhere accept for on blast for faking it until you make it!