Now, you all know that I've been following this R. Kelly trial seriously. After all, that's all they seem to talk about on the damn news here. Anyhow… today the defense is scheduled to began making their case in the trial. However, I believe that the prosecution has already LOST the case by making a big mistake by not including the circus surrounding R. Kelly's former publicist Regina Daniels' daughter. Now, I'm not sure if you all heard about this but here it goes. Kellz, had a best friend named George who was married to Regina. They are known as the Daniels. The Daniels have helped to promote the cookie monsters' career. George owns a big time record store in Chicago "George's Music Room" and his wife ended up becoming Kellz' publicist. She was his publicist for 14 years! Up until both of the Daniels abandoned their relationship with Kellz because they found out that HE WAS SLEEPING WITH THEIR DAUGHTER who was under age at the time. She's now an adult but Kellz was supposendly the girls' God Father and he was sexing the poor girl! How could the prosecution miss that? That proves the case right there that the man likes young girls!!! Forget Sparkle's niece… that's just the connecting piece. Besides, that video tape should NOT be any evidence… EVERYBODY SAW IT including the damn jury…. Where is the justice here? I'm not saying he should get off the hook but I'm saying maybe he needs to just see a psychologist and not a jail cell because he's obviously a freak and getting poked in the booty wouldn't be a punishment when he already likes when girls sticks their fingers in his butt!! EWWWWW… (Or so I heard)
It's not a secret throughout the streets of Florida that this man Plies is NOT a goon but his imagination helps the man sell records. In fact, some fellow local rappers throughout the Gunshine state pulled his rap s
heet to find only FOUR misdemeanors on his records for stuff like 'tinted windows, music too loud' etc. all of which are payable by fines. It is no secret that Plies' brother is the actual real goon here as he's always in and out of jail. THATS NO SECRET. Yet, Plies still gets love… or he did until Trick Daddy went snapping off about his flodging a*s. Now, here's the scoop. Ya'll know Plies was never really signed to Slip-N-Slide Records. He was signed to Slip-N-Slide's Street team. If it wasn't for Bigga Rankin, he would have never rea
lly made it 'big' even though Plies has been known in the streets for a while. Finally, Trick picked the man up and then he plays Trick by not showing up to do his verse on Trick's new album? Where is the respect?? Now, this comes at NO SURPRISE since I've heard plenty of times how Plies NEVER shows up to the studio when he's supposed to… so is this the offical declaration of beef between Plies and Trick?
Media outlets are about to get their drawls up in a bunch when they see this video that's circulating around YouTube.com with Pharrell preforming on stage and a fan jumps up on stage to shake his hand and he pushes him back into the audience.
However, at the end, Pharrell did pick the kid back up as an apology BUT the video stops there. Truthfully, I don't think it was a bad thing but my sources say Pharrell is one step from becoming Akon? Where is the correlation?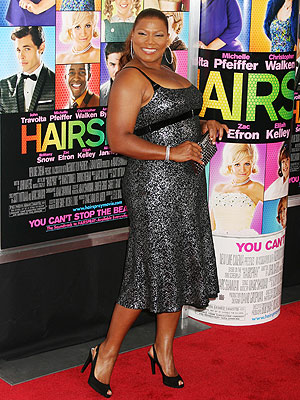 Queen Latifah is releasing a new perfume, which seems contradictory to her sexual preference. It seems that women a like have been feeling the queen regardless to her sexual idenity as she has been all over Cover Girl products and more. Don't get me wrong, I love the Queen but seriously… why would she want to come out of the closet if being in the closet has worked to her benefit?
Listen up kiddies… my boo Rihanna (who is also a fellow Pisces) is not playing any games when it comes to being treated like a queen. It has been reported that Chris Brown has bought my girl a $31K Cartier watch just because she wanted it! Now that's what's up! Ya'll bust-it-babies take notes.. You get the gifts just because you want them, he gets the gifts just because he earns them… (ok, blow up my email now because of that statement). But then again, she does have a song (which I love) that says "I got a house but I need new furniture…so let me get that"!!!
Oh my God, Lil' Flip has arisen. Actually, I thought that he was somewhere locked under the jail for that food stamp and credit card fraud that he was caught up in sometime last year. However, it turns out that our boy needs our prayers. He was involved in a very serious car accident. So pray for him for that. Then pray that his album that he plans to releases actually sales that he's releasing in July.
Speaking of Southern Hip-Hop,
Bun B is still kicking Billboard's Top 100's a*s on the rap charts with staying #1 for FIVE WEEKS STRAIGHT. That's real good s**t..
And to conclude the hot s**t. Wayne is really getting jumped at by Mike Pratt, so is DJ Drama.
Watch the clip here (after watching it myself, I really don't know what to say about it… LOL)
http://www.youtube.com/watch?v=hM4mfqk9lVM
Alright babies…
God is love
hit me on myspace: http://www.myspace.com/sweetfaceh0nii