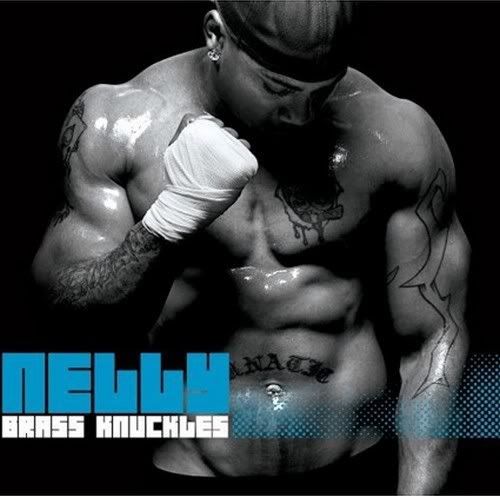 The album will feature fourteen tracks as reported by USA Today in 2007 B . Nelly explained the reasoning for the title as "the best way" he can explain "how hard it's going to hit you." Due to the amount of delays "Brass Knuckles" has undergone, many fans have begun referring to Nelly as a "huge tease."
Guests
Nelly has a range of featured guests lined up for Brass Knuckles, with appearances from Akon, Ashanti, Avery Storm, Chuck D, Ciara, Fergie, LL Cool J, Nate Dogg, Snoop Dogg, St. Lunatics, T.I. and Usher. Jermaine Dupri also stated possibilities of hopeful collaborations with Bruce Springsteen, Mariah Carey and Janet Jackson. Dupri gave a look into the two collaborations, one being Nelly, Carey and Jackson all appearing on the same track, in which he stated Nelly has laid the following blueprint:
Nelly's got a crazy collaboration he's trying to put together, which is him, Janet and Mariah Carey all on one song…That's what he wants. If he could convince them to do it, it would be crazy. He wants Janet to rap a 16-bar verse, he wants Mariah to sing the hook and he's gonna do two verses. He has it all planned out. You ask him about it! This is what he wants; he's 100-percent deadlocked into it.
He went on to speak about the possibility of the Springsteen collaboration and that two of his own tracks will appear on the album,
I think he's doing a record with Bruce Springsteen. You know he always has to do one of those! My two records [that J.D. has produced for Nelly so far], he's gonna have some people on them — I won't tell it yet. I don't want to jinx the record.
Nelly was unable to get to collaborate with Springsteen as he was too busy around the world, though he if still hopeful to collaborate with him on a future album, or even a repackage of Brass Knuckles.
More production will come from Bryan-Michael Cox, Neff-U and Pharrell Williams, among others.
On March 30, Nelly told HipHopDX.com that "the album would feature a handful of new producers."
Nelly mentioned in an interview that producer Polow da Don will be producing 4 tracks for the upcoming album
Tracklist:
* "Bay"
* "Body on Me" (featuring Akon & Ashanti)
* "Brass Knuckles"
* "Chill" (featuring St. Lunatics)
* "Hold Up" (featuring T.I. & LL Cool J)
* "L.A." (featuring Snoop Dogg & Nate Dogg)
* "Let It Go (Lil Mama)[ (featuring Pharrell Williams)
* "Lie" (featuring St. Lunatics)
* "Long Night" (featuring Usher)
* "One and Only"
* "Party People" (featuring Fergie)
* "Piece of My Heart"
* "Problems" (featuring Janet Jackson)
* "Self Esteem" (featuring Chuck D)
* "Stepped on My J'z" (featuring Jermaine Dupri & Ciara)
* "Thinkin' bout You (featuring Babyface)
* "Warriors"
* "Who Fucks with Me" (featuring Avery Storm)
* "Roots" (featuring Ja Rule)