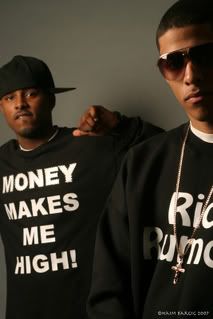 With the South presently holding the reign for music and the recent claims that Hip Hop is dead, New York based duo, DA
YOUNGFELLAZ look to bring the true essence of Hip Hop back to music.
Since breaking onto the scene with their first mixtape "Uninvited Guest" in early 2006, DA YOUNGFELLAZ have continued to surprise and ignite all that come into contact with their music. True to their craft and far beyond the gimmicks and lies that currently flood the genre of Hip Hop, this duo has more than just music to offer. Focused on resurrecting and bringing Hip Hop back to the true origin of New York and, members Jay Storm and Sho-Biz have it all inperspective.
"We don't want to cheat ourselves," claims Jay Storm, as he reaches up to adjust his blue and white NY fitted. "We don't make records that don't represent us or what we've been through. New York only respects the truth and that's what we give off in our music."
With production credits that include industry talents such as the Beat Doctors, J-Rico, Young Irv, and Arm of Tha Factory Productions, who all are in high demand by some of today's biggest artist, Da Youngfellaz continue to prove their talent, commitment, and ability to pull together for an overall established sound.
As the next to take over New York and the newest faces of the Brooklyn based RICH RUMORS exclusive clothing brand, DAYOUNGFELLAZ are well on their way to becoming permanent fixtures on the music scene.
Check out their new music
"New York City" ft Bryan Ellis
[audio:http://media.switchpod.com/users/lolas1700/New_York_City_ft_Bryan_Ellis_.mp3]
"Only One" ft Mylah (from making the band)
[audio:http://media.switchpod.com/users/lolas1700/The_Only_One_ft_Mylah.mp3]
Plus get to know them on Myspace